A VERT Solutions team was recently at Big Sky Resort to kick-off a ProCard trial for the Big Sky Mountain Sports School (BSMSS). ProCard is a ski school management application designed to maximize instructor efficiency, free up supervisory staff and enhance guest engagement. ProCard is optimized for mobile devices and on-snow use providing employee users with real time information on guest bookings, class lesson business, schedule changes and much more.
"The ProCard trial was set up quickly allowing for my team to jump right into utilization. The VERT team was great to work with and all about customizing to our needs!" – Troy Nedved, Director of Mountain Sports & Services, Big Sky Resort.
Big Sky Resort is a 5,800-acre (2,300 ha) ski resort located in southwestern Montana, an hour south of Bozeman. With its iconic, Matterhorn-like peak, Big Sky Resort offers a ski/ride experience that is unique and exceptional in the United States. In the next decade, the resort will invest $150 million in mountain improvements to strenghten "The American Alp" experience with it's Big Sky 2025 vision. The aim of the trial is to evaluate ProCard's effectivness at improving BSMSS's current operations and to gauge it's future suitability for use at Big Sky and other Boyne Resorts.
"ProCard's ability to give up-to-date lesson and guest information to snow sports school managers, supervisors and instructors is ideally suited to Big Sky's growing operation. Our aim is to help Troy maximize his team's potential" – Brian Maguire, VERT Solutions VP of Consulting Services.
The trial will continue through to the end of the Big Sky 2016/17 winter season.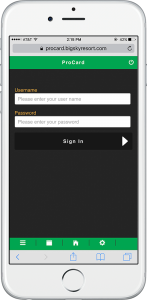 Procard for Big Sky Resort