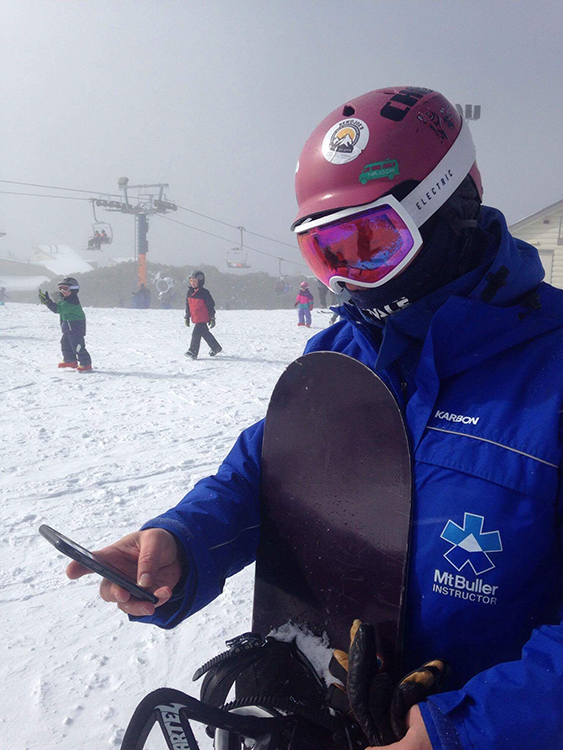 Gregor Lo Presti checks his busy schedule on ProCard
At Mt. Buller in Australia, a busy instructor can teach five different lessons in one day. 1 hr and 2 hr privates, school groups, class lessons, race and freestyle squad trainings can quickly fill up a talented instructor's day. With the city of Melbourne (population 4.67 Million) only a three hour drive away, Mt. Buller can experience some impressive levels of business when the conditions are good. Pro Instructors like Gregor Lo Presti don't have enough hours in the day when demand is high. In order to maximize his time on-snow with guests, Gregor needs to keep track of his constantly changing schedule. ProCard allows him to do just that, plus check his next meeting location and view important information about his next guest or lesson.
"ProCard has been the handiest tool I have worked with in my 20+ years of teaching all over the world. It's easy to keep track of my day and all relevant information. An essential 'tool' for instructors! It shows a deep understanding of the industry!" – Gregor Lo Presti, Level 3 certified pro instructor.
Gregor's season at Mt.Buller runs from May until September. To round off the southern hemisphere winter, Gregor next spends time instructing and riding at Mt. Ruapehu in New Zealand before heading to Switzerland for the northern hemisphere winter. There you'll find him hard at work in Klosters where he is a partner at Ben & Joe's Private Ski & Snowboard School.